WHAT IS THE OLSSON RUBY?
It's a unique nozzle for 3D Printers, designed to print highly abrasive materials while retaining the excellent heat conductivity of brass.
It works equally well for printing common FDM / FFF 3D printing materials.
WHAT IS THE BENEFIT COMPARED TO STANDARD BRASS NOZZLES?
The tip of the nozzle consists of a ruby gemstone – technically Aluminum Oxide – which is a very hard material.
This means that it is very durable even when printing exotic materials containing abrasive materials. See list of tested materials.
Some people have also seen a improved surface finish with the ruby tip (compared to brass nozzles).
ARE THERE ANY DOWNSIDES COMPARED TO A STANDARD BRASS NOZZLE?
WHAT IS THE BENEFIT COMPARED TO STAINLESS STEEL OR OTHER, COATED, NOZZLES?
Since the base material is brass – which has an outstanding heat conductivity – the Olsson Ruby has a big advantage to most other materials (for example stainless steel). Also, the tip is made out of ruby which is very hard and durable. Our experience is that nozzles with different coatings will wear off quite quickly when continuously printing/grinding towards an abrasive material (the model being printed). See our test results with different nozzle materials below.
Which 3d printers is the Olsson Ruby compatible with?
WHAT MATERIALS CAN I PRINT WITH THE OLSSON RUBY?
You should be able to print with any material you normally print with a standard brass nozzle, but with the benefit of lasting longer when printing abrasive materials. It has been tested by thousands of users all over the world with a lot of different materials, including:
Composite Materials
Carbon filled PLA (Proto-pasta Carbon Fiber PLA)
Carbon filled ABS (Oo-Kuma CF0 Carbon filled ABS)
Carbon filled Nylons (Fiber force Nylforce Carbon Fiber, Matterhackers NylonX)
Carbon filled Co-polyesters (Colorfabb XT-CF20, Nanovia PETG-CF, Formfutura Carbonfil, 3DXTech CarbonX PETG)
Glass fiber filled nylons (Fiber Force Nylforce Glass Fiber)
Kevlar-filled ABS (Nanovia ABS-K)
Tungsten-filled ABS (Turner MedTech GMASS)
Metal filled PLA (Colorfabb SteelFill, Brassfill, Copperfill, Proto-Pasta Stainless Steel PLA)
Graphite filled PLA (Proto-pasta Conductive PLA)
Boron Carbide-filled ABS
Standard Materials
PLA
ABS
PLA/PHA
Nylon
PET
CPE
Colorfabb XT
Ultimaker CPE
Ultimaker TPU95A
Ninjaflex
As always, your particular 3D Printer, material and slicer settings used will play the biggest part in the result, regardless of the nozzle type
In some cases it's advisable to increase printing temperature 5-10C depending on material and type.
If using wood filament it is important to remove the filament from the extruder and nozzle soon after finishing a print, as the filament will begin to burn in the nozzle. (Applicable to all types of nozzles.)
WHAT IS THE MAXIMUM TEMPERATURE FOR THE OLSSON RUBY?
WHO INVENTED THE OLSSON RUBY NOZZLE?
WHO MANUFACTURES THE OLSSON RUBY NOZZLE?
How does the wear resistance compare to other nozzles?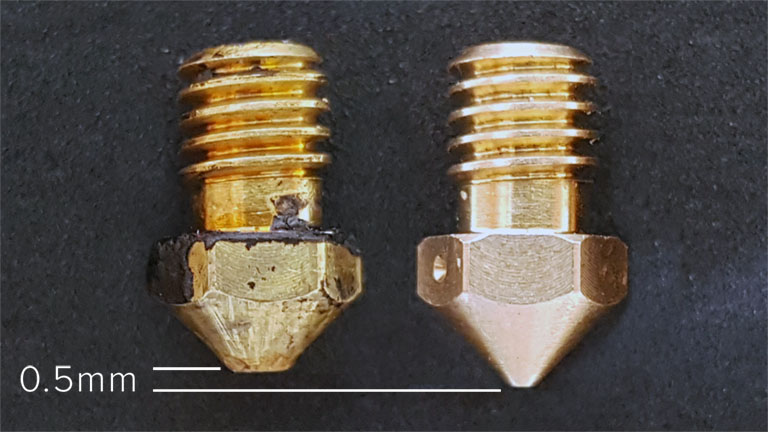 Brass, 0.3kg carbon fiber filled filament printed.

Stainless steel, 1kg carbon fiber filled filament printed.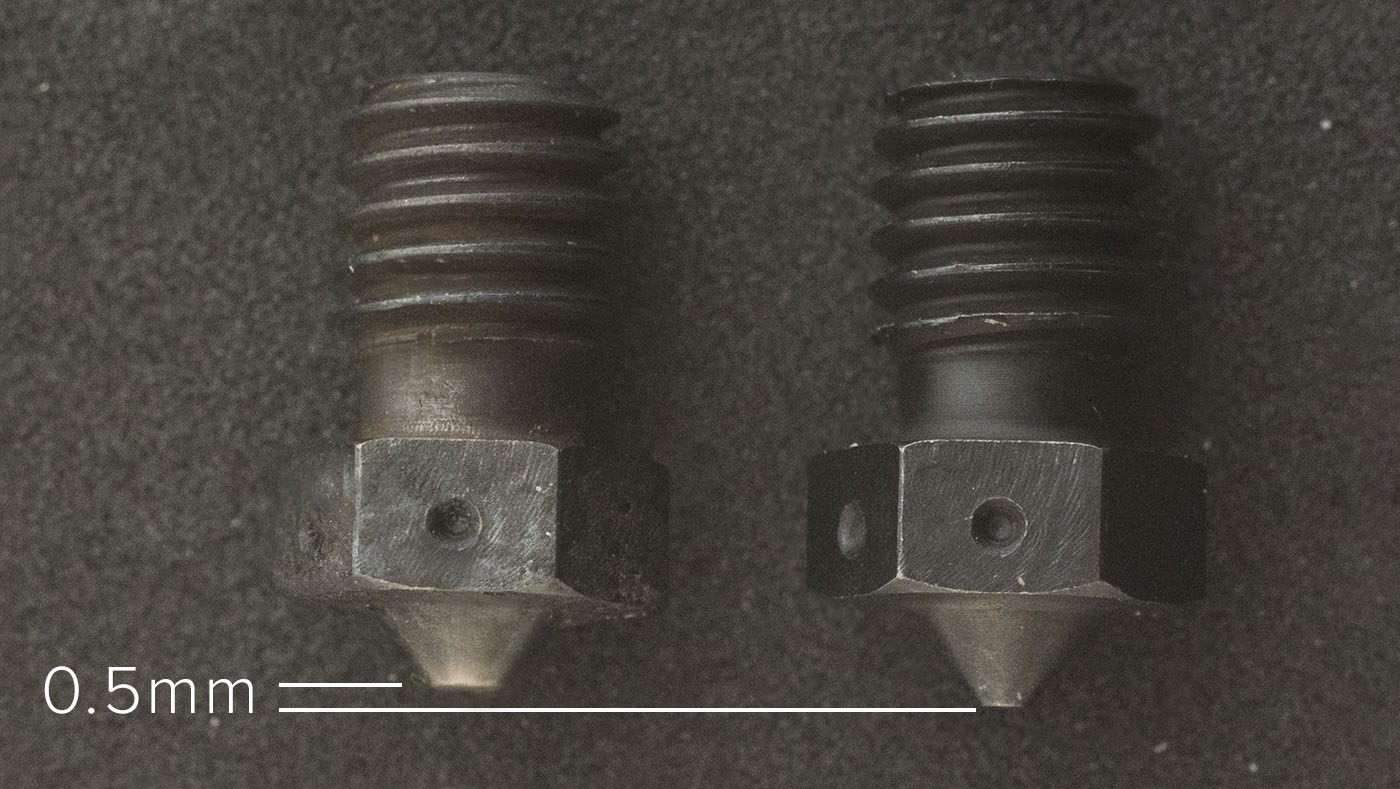 Hardened steel, 4kg carbon fiber filled filament printed.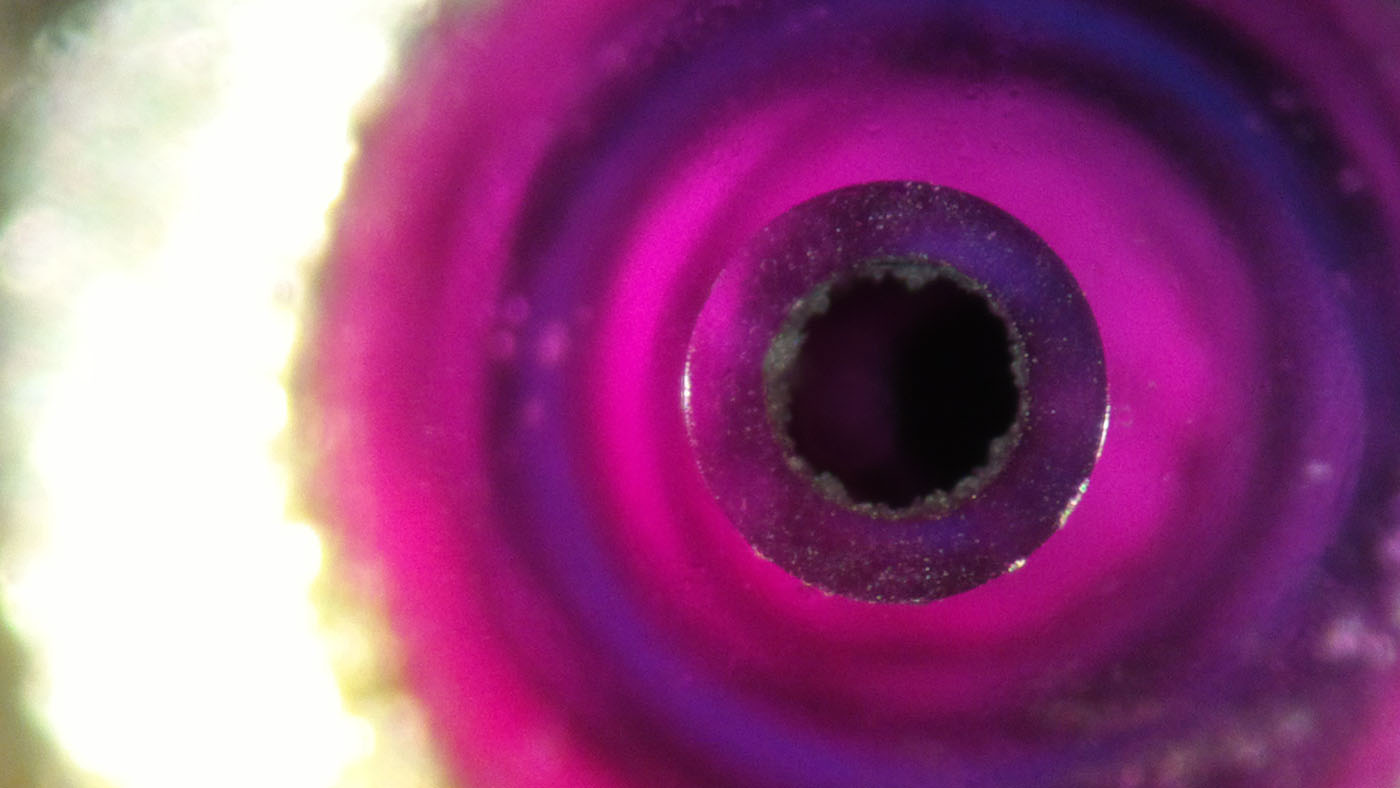 The Olsson Ruby, 8kg carbon fiber filled filament printed
No wear visible under microscope